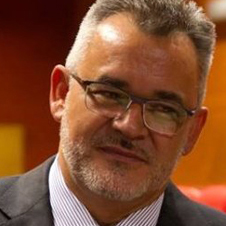 Antonio Casals

With over 30 years of global marketing, sales, and top management experience, Antonio's passion is to understand and predict clients and consumer behavior as well as to develop people's skills in neurostrategy and neuromarketing. He has been managing and working in several neurostrategy and neuromarketing projects around the world including Government and private sectors like automotive, Fragrances, IT, Pharma, healthcare, communication, PTT, Food, Packaging, Fish, Banking and insurance. Antonio has held senior management positions in US publicly traded companies like General Motors, Electronic Data Systems, Systems Software Associates and Siebel Systems. He is born in Barcelona (Spain). He is fluent in five languages.

Antonio is a visionary who can motivate a team while managing complex projects and earning the confidence of all his customers. Leadership is one of his strongest qualities. He was awarded with the "International Salesman of the year for Outstanding Sales Performance" EDS Award for a strategic and multimillion $ deal for Barcelona 92 Olympics. 10 years on the President's Club in EDS, SSA and Siebel Systems. He is also a successful entrepreneur.

He is a partner of SalesBrain and CEO of NeuroStrategy. He is the science and academic director of the NeuroStrategy - SalesBrain Master in Neuromarketing and Neurostrategy offered by 3 Business Schools - universities already in 3 countries. He is also Professor in a Master of Science offered by the Barcelona School of Management (UPF University- Barcelona- Spain). He holds a PhD in Germanic philology.

Since 2014 he is also the elected Local Chair for Spain of the Neuromarketing Science and Business Association (NMSBA)

For a consultation on Neuromarketing or NeuroStrategy, Antonio can be reached at antonio@salesbrain.com.